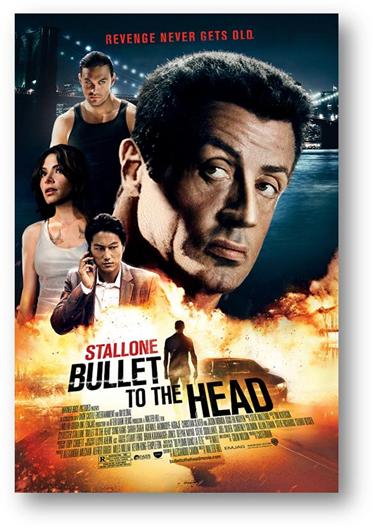 Sylvester Stallone regresa a la pantalla grande en "Bullet to the Head", interpretando a Jimmy Bobo, un asesino a sueldo que forma una insólita alianza con un ordenado detective, Taylor Kwon (Sung Kang), para detener al despiadado asesino de sus respectivos compañeros.
"Bullet to the Head" también cuenta con las actuaciones de Sarah Shahi (la serie "The L Word", de Showtime); Adewale Akinnuoye-Agbaje ("G.I. Joe: The Rise of Cobra"); Christian Slater ("Broken Arrow"); Jon Seda (la serie "The Pacific", de HBO) y Jason Momoa (la serie "Game of Thrones", de HBO).
El director Walter Hill trabajo con la adaptación de la novela gráfica Du Plomb Dans La Tête, escrita por Matz, ilustrada por Colin Wilson y publicada por Casterman. El guión estuvo a cargo del nominado al Oscar Alessandro Camon.
Después de introducirlos a esta nueva aventura con Sylvester Stallone les comparto que tenemos un Sorteo !!!
Primer Lugar:
· 1 – Póster "Bullet to the Head".
· 1 – Voucher "Bullet to the Head Hollywood Movie Money" para ver la película. Este pase admite dos personas y se puede utilizar desde el día del estreno 02/02/13 hasta el 02/28/13 en cualquier cine de los Estados Unidos, a excepción de la cadena AMC.
4 Segundos Lugares
· 1 – Póster "Bullet to the Head".
Estos pósters realmente son articulos de coleccción.
Otro héroe de acción ochentero que regresa triunfante a la pantalla grande. Eso lo tenemos que ver.
La película la tienen que ver.